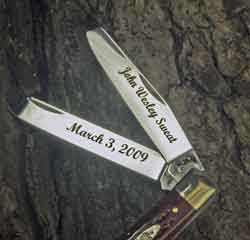 In the photo above, a new Premium Engraving process is illustrated. This Premium process darkens the engraving into the steel and changes the color of the engraved area. The color and the engraving are permanent.
This process is superior to the Thermark process that uses laser light to develop a powder onto the steel much like a photograph. Thermark will wear off. It is referred to as semi-permanent.

Our process uses a fiber optic light frequency modulation to penetrate the surface of the steel and change the color. It is referred to as permanent.

There are limitations on the use of this high end technology so we cannot engrave every knife with it.
The advantage of this method is the color change to the engraved area giving it a high contrast which is easier to read.


If you would like to upgrade to the Premium Engraving for an additional $2.00 per Engraving; then please note this in the Special Instructions during checkout.
Wood, Bone, Aluminum and Plastic handles are laser engraved.
We use state of the art computerized engraving machines to deliver the highest quality engravings.
The standard engraving process is using Diamond tipped bits to engrave in steel blades and handles. We use a Script Font (Vanessa) or a Block Font (Goudy).

Please note that engraving a word using Script Font in all capital letters will NOT look good. The first letter in a word can be capitalized and the rest of the letters must be in lower case. You can capitalize all letters when selecting the Block font.
For initials, we recommend the Block font.

If you have any questions regarding any personalization, please call us at 877-564-3399.
Image below is Block font on a blade in our standard engraving.